FIFA 13 Wii U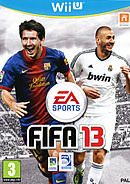 Mais que peut bien apporter la Wii U à FIFA 13 ? C'est une question que nombre d'entre vous se sont posée légitimement. Pourtant, l'énoncé comporte une grave erreur. En fait, la véritable interrogation qu'il fallait soulever est la suivante : Mais que peut bien apporter la Wii U à FIFA 12 ? Et là, ça change pas mal de choses.
En lisant les différentes interventions d'Electronic Arts sur le sujet, le doute avait fini par s'installer dans de nombreuses têtes. Pas d'Ultimate Team, des graphismes pas si jolis que ça… Est-ce que la boîte américaine ne nous ferait pas encore le coup fumeux de nous pondre une ancienne version sur une plate-forme autre que PS3 et 360 ? Alors que les joueurs PC ont pleuré toutes les larmes de leur corps pendant des années avec leurs itérations franchement datées (jusqu'il y a peu), voilà que la Wii U démarre fort mal.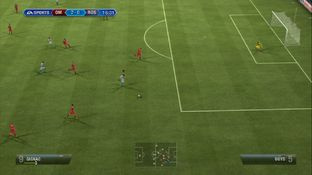 Car si l'envie de comparer cette version avec FIFA 13 sur PS3 et 360 était forte, il sera finalement beaucoup plus simple de la comparer à son prédécesseur FIFA 12. Ainsi, vous pouvez tout simplement dire au revoir aux modes Jeux Techniques, EA Sports FC et Ultimate Team, qui faisaient clairement partie des ajouts principaux. GamePad mis à part, on peut tout au plus noter l'arrivée du mode Saison Online, ce qui paraît bien maigre. Malheureusement, le constat est le même une fois sur le terrain où on retrouve non seulement le gameplay de FIFA 12 (pas de nouveau système de contrôle, moins de mouvements chez vos coéquipiers, etc.), mais aussi son aspect technique là où FIFA 13 avait su affiner le moteur physique et les graphismes en règle générale. Il y a tout de même de quoi être meurtri lorsqu'on se rend compte de ce qu'on a sous les yeux, surtout lorsqu'on est fan de la série. Pourquoi un tel retour en arrière, surtout sous une bannière "FIFA 13″ ? Pire encore, cette version Wii U accuse quelques problèmes de fluidité lorsque trop de joueurs sont présents à l'écran. Pour un volet pourtant antérieur, ça fait mal.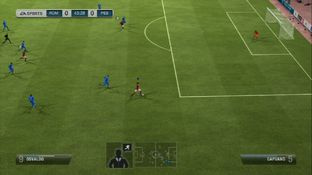 Du coup, on se rabat fatalement sur les fonctionnalités GamePad, qui sont d'ailleurs multiples. Dans un premier lieu, la mablette permet d'accéder à des options d'entraîneur facilement et en plein match. Changer de formation, de tactique ou encore faire un remplacement, l'écran tactile vous autorise tout cela. Dans l'ensemble, c'est plutôt pratique même s'il vaut mieux attendre que le ballon soit sorti du terrain pour se lancer dans des manipulations. On peut aussi influer sur le gameplay de différentes manières. La plus intéressante reste la possibilité de manipuler les joueurs que l'on ne contrôle pas en traçant une direction sur l'écran tactile. Non seulement vous pouvez gérer les appels de vos équipiers, mais vous avez maintenant un réel impact sur le placement défensif, ce qui est tout sauf négligeable. Le GamePad permet aussi de réaliser des passes en tapotant sur le joueur auquel le ballon est destiné, ou encore de viser les cages avec précision en affichant les buts adverses (en secouant la mablette) puis en touchant la zone souhaitée. Malheureusement, cette dernière fonction manque totalement d'ergonomie et il est souvent plus simple de tirer à l'ancienne.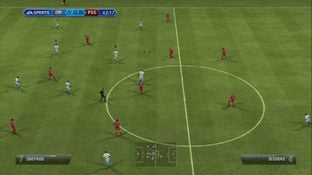 Dans l'ensemble, ces fonctionnalités GamePad sont plutôt bienvenues même si certaines font plus office de gadget qu'autre chose. Le problème, c'est que pour le reste du gameplay plus classique, l'espacement des touches (et notamment la position des gâchettes) ne facilite pas vraiment la prise en main. Si on finit par s'adapter avec le temps, ça semble tout de même moins ergonomique que la bonne vieille manette. Notez qu'il est de toutes façons possible de jouer avec une Manette Pro Wii U, mais on perd de facto tout ce qu'apportait l'écran tactile. En gros, on se retrouve devant FIFA… 12. Au final, il est difficile de conseiller cet opus Wii U. D'un certain côté, c'est le premier jeu de foot sur la console et le seul disponible à l'heure actuelle, ce qui pourrait le rendre indispensable à tous les fans de ballon rond. En effet, FIFA 12 était un très bon titre et il est logique qu'il soit toujours aussi plaisant sur Wii U. Cela dit, la politique d'Electronic Arts peut s'avérer choquante, au minimum, et cette intention de vendre cette sous-itération comme si de rien était sous le nom FIFA 13 est franchement condamnable, d'un point de vue moral. On était en droit d'espérer bien mieux et on a encore une fois l'impression de voir un titre rushé en puissance pour faire partie du line-up de sortie de la console, au détriment du contenu, et surtout, des joueurs.
Visitors found this page by searching for:
adidas f50 messi 2013
patch fifa 13 pc torrent
patch fifa 13 champions league
patch fifa 13 ps3 champions league
option file fifa 13 xbox 360
telecharger patch fifa 13 pc
fifa 13 face pack el shaarawy
patch fifa 2013 ps3
patch fifa 13 pc commentaire arabe
how to install fifa 13 patch
f50 2013 messi
patch fifa 13 offline
e0001 fifa 2013 como resolver
patch fifa 13 pc télécharger
fifa 13 pc patch torrent
telecharger patch fifa 13 arabe
fifa 13 liga bbva chants
patch stade fifa 13
leali fifa 13
how to install kits in fifa 13
patch liga 1 fifa 13
f50 adizero 2013 fifa 13
patch ligue des champions fifa 13
resultado premier league newcastle 10 \12 12
EASFC catalogue fifa 2013 boots updates when ?